As WEET has mentioned before, for well-established diodes and rectifiers factories in China mainly distributed in Jiangsu,
Shanghai, Anhui and Shandong. On the other hand, generally speaking,
Compared with these cities, and the worse quality Diodes are in Northern Jiangsu and Shandong Province.
Based on our customers feedbacks, Guangdong, of course, is also become the cheapest and the worst diodes factory now.
Most of their raw material are second level, so WEET highly suggest customers to try all the products samples
before mass ordering. No matter how common the products is , datasheet confirmation and sample running process are needed.

| | | | |
| --- | --- | --- | --- |
| Package Type | Product Type | KKpcs | Typical Products |
| SMAF | Surface Mount SMD Diodes | 300 | M7,RS1M,ES1J,ES2J |
| SMA-J | Surface Mount SMD Diodes | 225 | SS14,ES1D,US1M |
| SMA | Surface Mount SMD Diodes | 75 | SS310,RS2M,SMAJ15CA |
| SMB | Surface Mount SMD Diodes | 90 | S3M,RS2M,SMBJ33CA |
| SMC | Surface Mount SMD Diodes | 20 | RS3M,S5M,SMCJ36CA |
| SOD-123FL | Surface Mount SMD Diodes | 75 | A7,F1M,E1J,K14 |
| SOD-123 | Surface Mount SMD Diodes | 15 | 1N4148W,1N4148WS |
| R-1 | Through Hole Dip Diodes | 8 | 1A5,1A6,1A7 |
| R-6 | Through Hole Dip Diodes | 8 | P6A10,6A10,10A10 |
| DO-41 | Through Hole Dip Diodes | 225 | 1N4007,HER104,SF18,FR107 |
| DO-15 | Through Hole Dip Diodes | 120 | SF28,RL207,HER208 |
| DO-27 | Through Hole Dip Diodes | 90 | SF56G,SR340,1N5408,HER308 |
| DO-201AE | Through Hole Dip Diodes | 45 | 1.5KE15CA,1.5KE250CA |
| MBF | SMD Bridge Rectifiers | 300 | MB6F,MB8F,MB10F |
| MBS | SMD Bridge Rectifiers | 90 | MB10S,MB6S |
| DBS | SMD Bridge Rectifiers | 20 | DB107S,DB207S |
| DB | Dip Bridge Rectifiers | 10 | DB107,DB207 |
| GBP | Dip Bridge Rectifiers | 10 | GBP210,GBP310,GBP410 |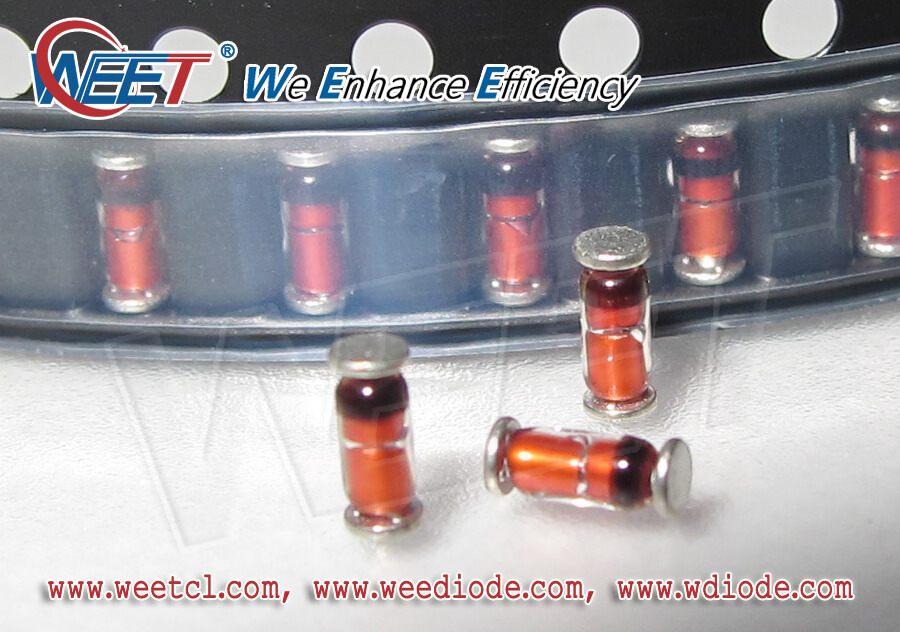 WEE Technology Company Limited
Manufacturer of Surface Mount (SMD) and Through Hole (DIP) Diodes & Rectifiers
Website: www.weetcl.com, www.weediode.com, www.smddip.com, www.wdiode.com
E-mail and Skype: info@weetcl.com, info@weediode.com
Twitter:https://twitter.com/WEETechnology
WordPress:https://weetcl.wordpress.com
LinkedIn: https://www.linkedin.com/company/weetcl
YouTube: http://www.youtube.com/c/WEETechnology